I love simple but meaningful gift ideas. Since I gravitate towards jewelry, I always look for fun jewelry projects that I can turn into easy gift ideas. This hand stamped secret message necklace is just that! This necklace would be pretty on its own, but the secret message makes it an extra special handmade gift that anyone can appreciate. Making this metal stamped necklace is way easier than it looks! Especially, when you have all the right tools.
If you're a metal stamper, you're probably pretty familiar with ImpressArt. They are fantastic at understanding what you need for metal stamping and every year they come out with new products that just make stamping so simple. Metal stamping is how I started playing around with metal because it was the easiest thing to do without learning how to be a metalsmith! Not to mention, it's so fun! Get your aggression out by hammering some metal! It's the best stress therapy.
I've always been a big fan of ImpressArt and their selection of metal stamping tools and accessories. I was so excited to be able to work with some of their newest products to come up with this project. Keep scrolling to learn how to make this metal stamped secret message pendant for yourself or someone extra special!
How to Make a Hand Stamped Secret Message Necklace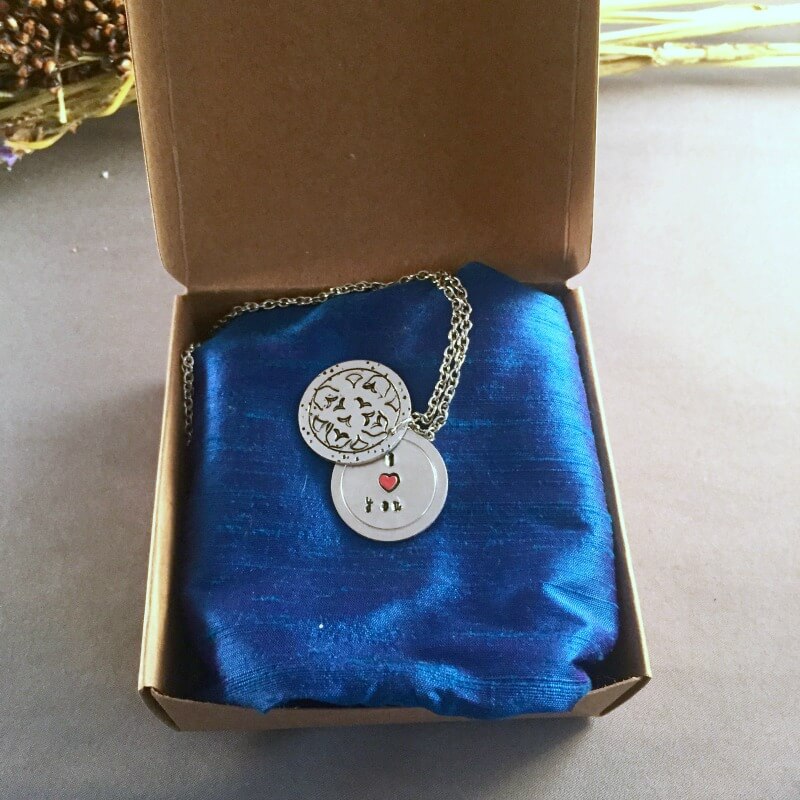 Supplies:
The supply list below includes affiliate links. If you purchase your supplies using this link, it won't cost you extra and we'll earn a little commission to help support the blog!  Check out our disclosure and privacy policy.
Instructions:
Plan out your design. Think about which stamps you will be using and how you want them to be laid out. Take a few minutes to sketch out your ideas before getting to work. I found that taking an extra minute or two to plan makes a world of difference in your final piece.
Lay your front circle blank on the stamping block and place one of the circle grid adhesive stickers from the stamp guide onto your piece. These stickers have been life-changing. You can stamp right over them and see your piece while working because they are clear. Highly recommend if you plan on doing a lot of stamping, if not, you can always hand draw a grid with a Sharpie and ruler.

Begin stamping your mandala pattern on your front piece. I just did a simple pattern and then textured the edges with one of my texturing stamps. Once you're done, pull off the remaining sticker and set aside.
Place your second circle blank on the stamping block. If you need a stamping guide, the little book also comes with a sticky ruler so you can align your words! Stamp your message on and set aside.
Both your front and secret piece should be stamped. Take the stamp enamel marker and cover all of the stamped parts you want to fill in with a black outline. Let them dry for about a minute or two and then rub off the excess ink. Repeat again if the dips aren't dark enough for you.

With the applicator or a small paint brush, apply a tiny drop of red enamel accent to the heart. Carefully spread it to the edges. Let dry for at least an hour.

When the heart is dry, you're ready to assemble! Grab your pliers and open one jump ring. Slide the two finished circle blanks on it. Use your pliers to close the jump ring.
Open another jump ring, slide on one end of your chain and the lobster clasp. Use your pliers to close your jump ring.
Slide the other end of the chain through the jump ring that is on the circle blanks.
Open the last jump ring with your pliers, attach it to the empty end of your chain. Close the jump ring.
Try on your new necklace!
I love this simple project because it makes such a sweet and intimate gift and it only takes a couple hours to put together! This easy DIY necklace makes a great best friend gift or a special surprise for mom. Really, who doesn't love a special secret message just for them?
Grab your stamps and some blanks and make some cute necklaces this weekend!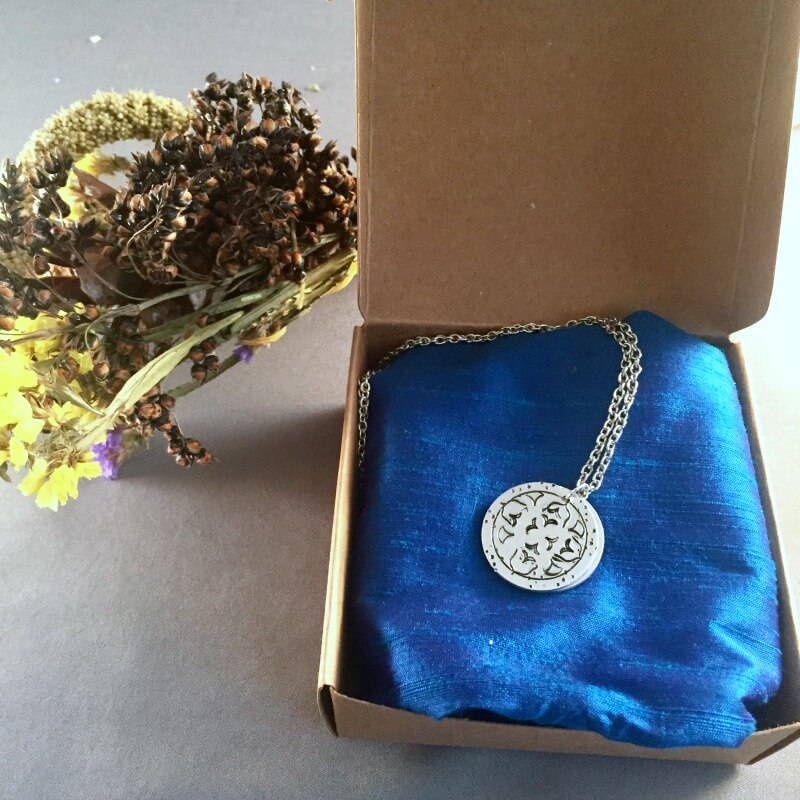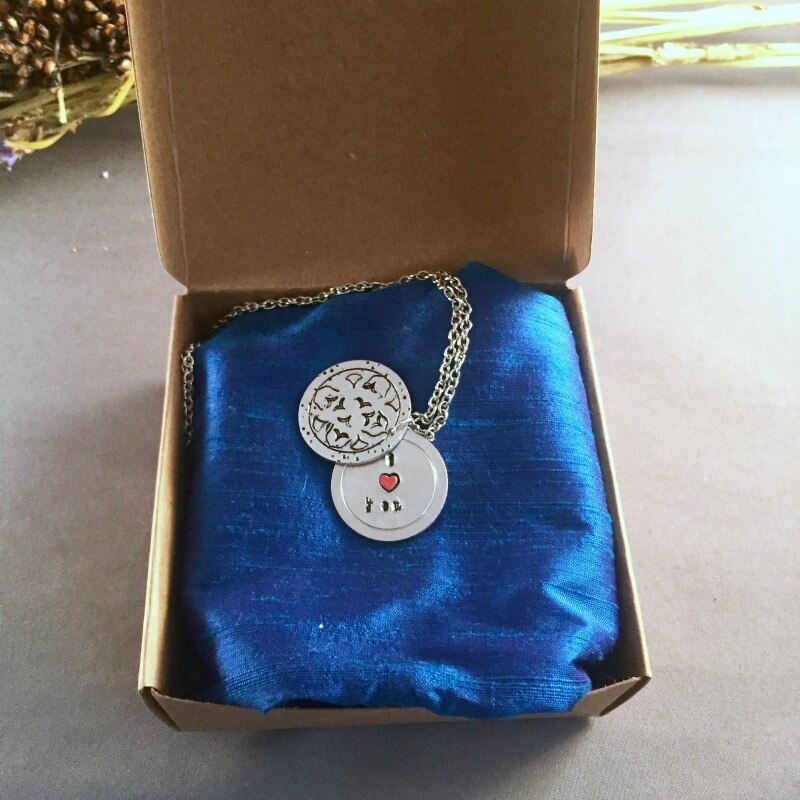 Did you make one of these? We love seeing your projects. Share a photo on our Facebook page!