We have another Christmas ornament to make for you today! Christmas has to be the best season of the year for crafting. There are so many cute things to make! DIY ornaments are definitely my favorite though.
This is a DIY Christmas ornament for music-loving families or cat owners! If you're a family that loves a little noise, make a few extra of these handmade Christmas Ornaments for the kids to use as tambourines. Can you say hours of entertainment? If you're a cat owner, you already know this ornament will save you so much broken glass since it can be used as a warning bell for when the cat is in the tree. You're welcome.
Of course, these ornaments can also just stay on the tree because they are a beautiful addition to any Christmas decor. Let me teach you how to make some of your own with this Christmas ornament tutorial!
Jingle Bell Wreath Christmas Ornament Tutorial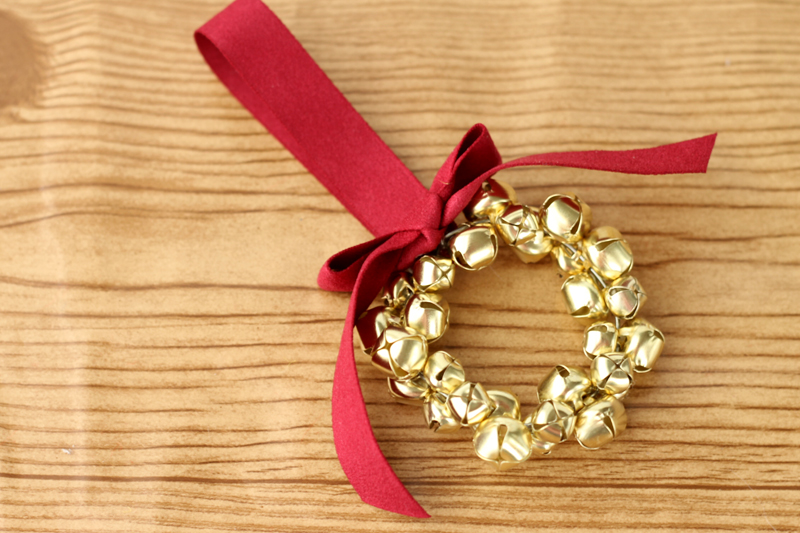 Supplies:
Stiff wire
Jingle bells
Ribbon
Glue
Jar lid
Scissors
Wire cutters
Instructions
Use a length of stiff wire and wrap it around a jar lid to form a circle. Bend a loop on both ends of the wire.
Thread as many jingle bells as desired onto the wire as shown.
When you are happy with the wreath, shape with your hands to get the desired shape. Tie loops on ends of the wire around one another and twist.
Trim ends of wire if needed. Tie on a bow and piece of ribbon for hanging.
I love how the added touch of gold looks on my Christmas tree. For the jingle bell obsessed, it's the perfect gift! I've also thought about making a giant version as a wreath for my door. What do you think? Too much jingling?
As always, we love to see your projects! If you made this project or another project you'd like to share with us, share a picture on our Facebook page or tag us on Instagram.