Sometimes the prettiest handmade ornaments are the simplest. I've really been loving the all-white Christmas tree decor trend, but I couldn't bring myself to buy all new ornaments for a trendy tree. Luckily, I had a couple extra sets of clear plastic ornaments and some money to spend at the dollar store. This DIY Christmas ornament won't take you more than 5 minutes to make and you can make a whole tree full of them in an hour. It's a perfect solution to anyone that wants to temporarily change up their Christmas tree decor!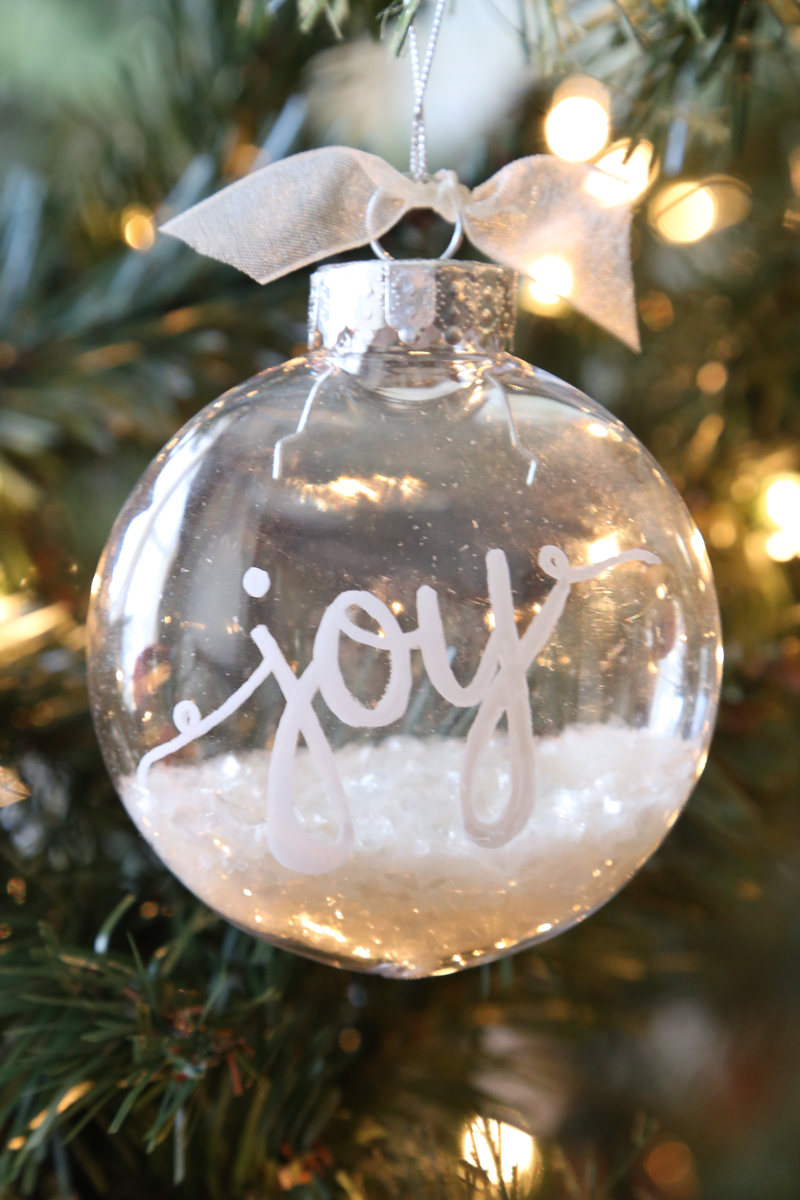 What words come to mind for you during the holiday season? Joy, Peace, Gratitude, Love? Add them all to your handmade ornaments! It can be an inspiration tree this year since we all probably need a little positive inspiration right now. Not loving the white Christmas trend? Fill your DIY ornament with any color glitter or confetti you love! The options are endless.
Simple 5 Minute White Christmas Ornament
Supplies
Plastic Ornament

Bistro Chalk Marker – fine, white

Glitter or mica flakes or confetti

Ribbon (optional)
Instructions
Using a rolled up paper funnel, add glitter, mica flakes, or confetti to the bottom of your ornament. Put topper back on the ornament.

Write a message on the ornament with the Bistro Chalk Marker. Let dry.*

Add ribbon and hang.
*The Bistro Chalk Marker is not permanent on a plastic ornament. You can choose to change the message from year to year or make a permanent version with a DecoColor Paint Marker.
This simple Christmas ornament also makes a great gift to commemorate an anniversary or special date. Just write the date on the ornament instead and your gift is ready to go! The best thing about this project is that it's fast, easy, and budget-friendly. When you're already spending an entire paycheck on gifts, budgeting on decor really counts.
Did you make one of these Christmas ornaments? We'd love to see! Share a picture on our Facebook page or tag us on Instagram.