These butterfly watercolor coasters make a great gift or an easy update to your home decor.  With spring just around the corner, you'll have the perfect present for bridal showers, housewarming parties, or just a fun decoration for your back patio.
What I love about this project is it's so easy to master and once you do it, you can create the same effect on lots of surfaces. The alcohol ink creates a gorgeous watercolor effect. Once you master this trendy technique, you can make all kinds of crafts for home decor, party decorations and more. The best part is that you can use any kind of alcohol ink based markers you have at home! No need to buy special inks just for these watercolor coasters.
Butterfly Watercolor Coasters with Alcohol Inks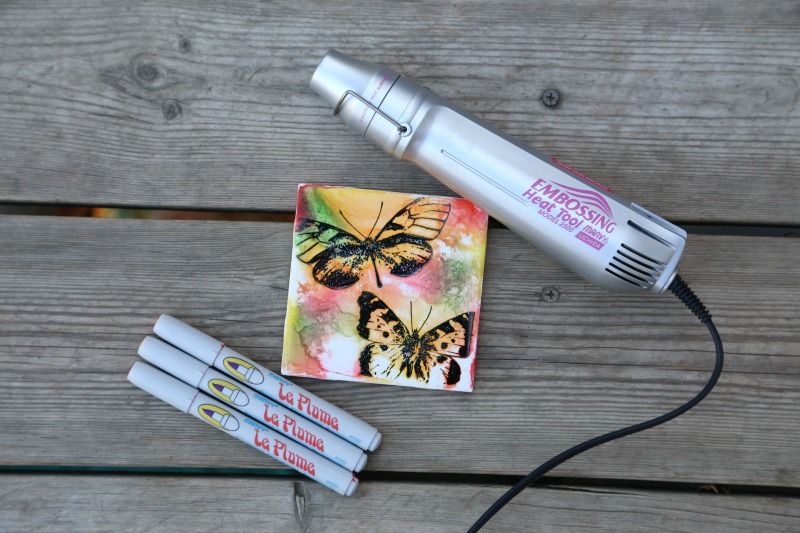 Supplies:
Ceramic Tile

Le Plume Permanent Marker

Rubbing Alcohol, 70% by volume or higher

Small spritzer bottle

Embossing Heat Tool

Rubber Stamps, optional

Permanent Stamp Pad, optional

Cork sheet

Adhesive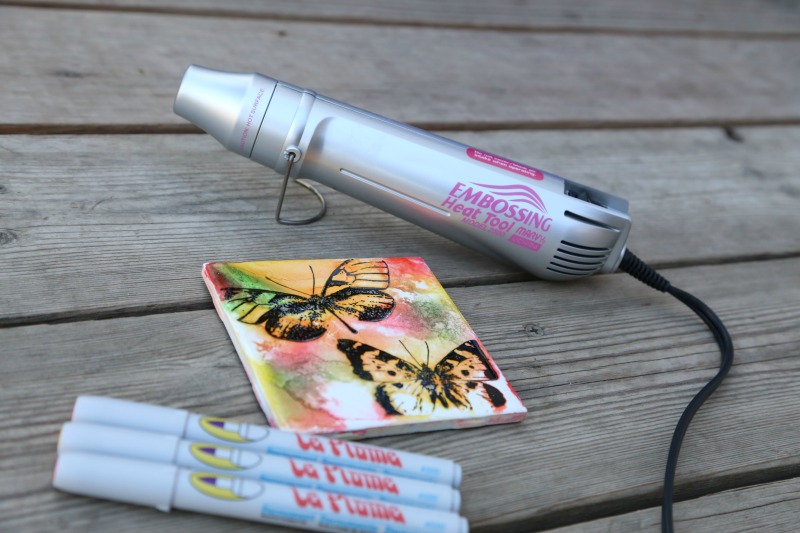 Instructions
Using your Le Plume Permanent Markers, draw dots of color all over the top of your coaster.

Fill your small spritzer bottle with the rubbing alcohol.

Spray the color on the coaster. Turn the coaster as you see the colors running. You can always spritz more alcohol on the coaster to make the colors flow more.

When the coaster is full of color, lay flat.

Either allow the coaster to dry on its own, or use your Embossing Heat Tool. The heat will dry the coaster but also give different effects to the colors. Move the heat around quickly and keep the tool at least 10 inches from the coaster.

Once the coaster is completely dry, you can add an image over the top of the color using rubber stamps and a permanent ink pad if desired.

When the top of the coaster is completed and dry, add a piece of cork to the bottom with an adhesive.
Easy to create and fun to receive, you can't get much better than these DIY watercolor coasters. Dress up a stack of coasters with a fun ribbon for extra special presentation. Bundle them into a set of four with some pretty drinking glasses and you have a great handmade gift!
As always, we love to see your projects! If you made this project or another project you'd like to share with us, share a picture on our Facebook page or tag us on Instagram.