Christmas ornaments are the one thing in home decor that I like to keep traditional. I have hand-me-down ornaments from my parents and grandparents and a new collection I started with my own kids. I don't want to buy new ornaments every year just to keep up with trends, but I do love the ornaments that come out every year. That's why I always try to DIY an ornament at least once a year. Making your own Christmas ornaments is a great way to create new memories and traditions.
This year I was obsessed with everything chalkboard and I wanted to incorporate some of that into my Christmas decor! This DIY Christmas ornament is unbelievably easy to make and it turns out so cute!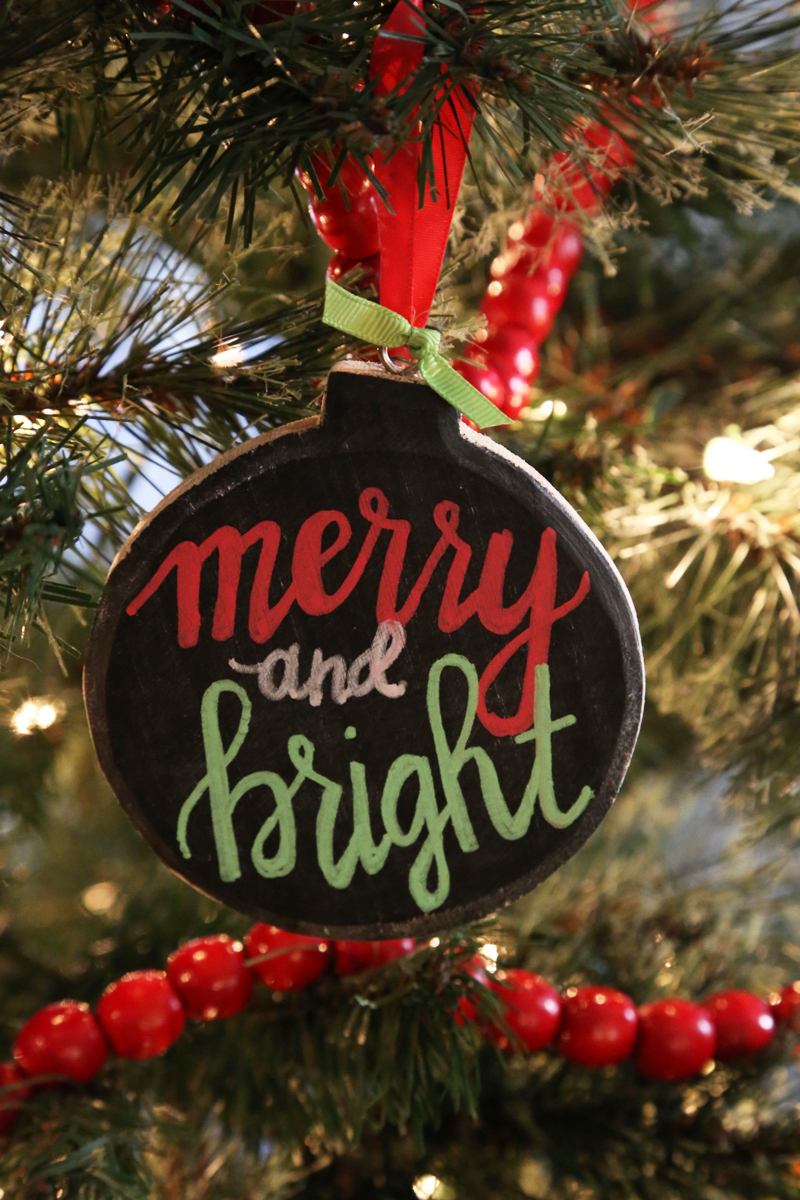 Those blank wood ornaments at Target and Michaels are my favorite thing. They are the perfect blank canvas for creating your own special handmade ornaments. These little ones can even be used as gift tags! Just write out the person's name and tape or tie it to the box. I mean, who isn't tired of seeing the same sticker labels every year? Your gifts will definitely stand out.
How To Make a Simple Chalkboard Ornament
Supplies:
Wood ornament
Easy Chalkboard Marker, black
Bistro Chalk Markers, red, green, and white
Pencil
Plain white chalk
Ribbon, optional
Instructions: 
Use your Easy Chalkboard Marker to add a chalkboard finish to your wooden ornament. Allow it to dry.
Condition your chalkboard surface by taking a plain piece of white chalk and covering the surface. Wipe off with a plain paper towel.
Design your sentiment using a pencil first, lightly.
Trace over your design using the Bistro Chalk Markers. Allow it to dry.
Add ribbon if desired.
*The Bistro Chalk Marker is not permanent on this ornament. You can choose to change the message from year to year or make a permanent version with a DecoColor Paint Marker.
That's all it takes to start your own tradition of making a Christmas ornament every year! Pretty simple, right? Since this project takes little time and almost no mess, it's another great kids craft idea. It's a genius way to keep little hands busy with minimal supervision while you're making dinner, packing presents, and cleaning the house all at the same time (supermom status, am I right?). You can even cut an extra long piece of ribbon and kids can wear them as necklaces. Now you have an alternative to name tags too!
As you can see, there are so many creative ways you can make this simple, quick craft. Show us your creativity on our Facebook page or tag us on Instagram.